Elizabeth Jane Hollenbeck Bradley Worley
Born: 30 June 1849 in Keokuk County, Iowa
Mother: Louisa Thompson Bradley
Father: George Washington Bradley
Married: 11 Jan. 1866 to William Anderson Bradley
Children: John Thomas, William Franklin, Maude May, Ada Azetta, Evalyn Matilda, and Grace Belle
Occupation: Homemaker
Died: 13 Sept. 1949 in Baltimore, Maryland
Buried: in Larkinburg Cemetery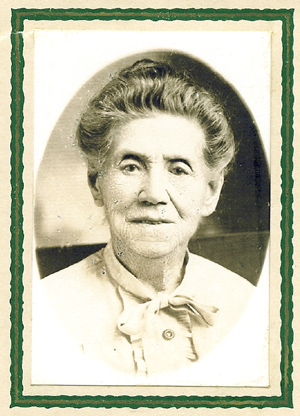 J. T. Bradley, E. Jane Bradley Worley, Ruth Smith (holding Madge)
Virginia and Blanche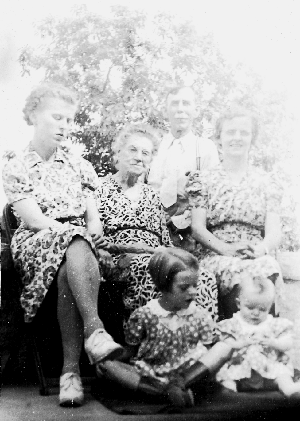 Five Generations: E. Jane Worley (center), son Frank Bradley (standing), granddaughter Ethel Kathrens (right),
great-grand-daughter Margie (left), great-great-grand-daughters Jeannine and Joyce
(These photos were taken at Jane's 90th birthday celebration in 1939)

Four Generations: E. Jane Worley (right), daughter Maude Bradley Hickman (back),
grand-daughter Leita Hickman Peters, great-grand-daughter Suzanne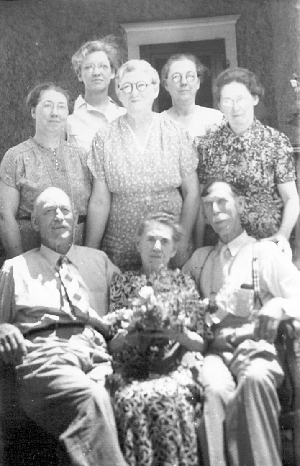 E. Jane Bradley Worley (center), sons John (left) and Frank (right), and daughters
Grace Dague, Nettie Guise, Maude Bowser, Ada Hoenshell, Eva Medlock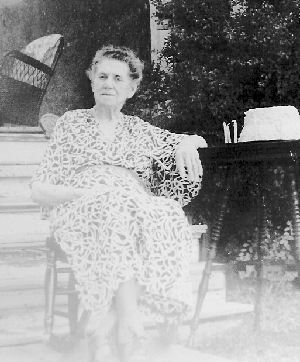 Five Generations (1946): E. Jane Bradley Worley (right front), son John Bradley (left back),
grand-daughter Ruth Smith (right back), great-grand-daughter Blanche Morrell, great-great-grand-daughter Judy (center)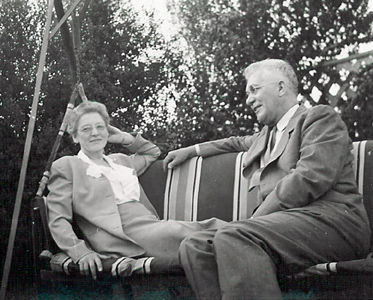 daughter Nettie with her husband Curtis Guise

son Frank Bradley with his wife Cora

Autobiography of Elizabeth Jane Hollenbeck Bradley Worley

Dear Children:

A merry, merry Christmas to each one of you and to all the dear grand children, great grand children and great, great grand children. It has been wonderful to live long enough to see all of you. Each new baby has brought joy and blessing to me as well as to each of you.

In the long span of years there have been so many changes that life now is quite different from the life I knew as a girl. You who are younger can scarcely realize what pioneering was like, so this year instead of sending Christmas cards, I am writing some of my girlhood recollections. I do not know just where to begin but I shall write down incidents as they come to mind. I was born near South English, Keokuk County, Iowa on June 30, 1849. Father Hollenbeck, who was German, was tall and straight. Mother, whose maiden name was Carroll, was Irish. She was fatherís second wife as his first wife died when brother Henry was young.

My first remembrance is of living in a small one room cabin with one door and one small window. We had no stoves, only a fireplace where we did our cooking. The ovens and skillets had long legs in order that coals could be placed under them for heating. For boiling, we hung the kettles over the fire on hooks which were attached to the chimney in some way, but I have forgotten just how. We used grease lamps - a piece of cotton cloth twisted and laid in a bowl of lard with one end left out for lighting.

As children we had nothing but homemade clothes. We raised our sheep, sheared their wool, washed it thoroughly, then picked the burrs and dirt from it in order that mother could card it. As we had only hand cards it took a long time to make the rolls for spinning into thread. It was then ready for the looms. I cannot give you much of an idea about the looms, but you can imagine how much work it took, first to weave the cloth and then to make our clothes. We did not have as many pretty dresses as the little girls of today have.

I remember once when father was stooping over milking one of the ewes, I was sitting on the fence watching him. Father was very bald and one of the rams objected to this bald head being in the pen. I saw the ram backing off farther and farther with his head lowered and I knew what he was about to do but I did not call father, as I thought it would be such fun to see him butted. Suddenly the ram charged., striking father with such force that it knocked him over. I was so frightened that I jumped from the fence and ran to the house without telling father that I had known the ram was getting ready to butt him.

In those early days we didnít have cars, not even spring wagons or buggies. We used limber wagons with ox teams. However, this did not spoil our good times for we were very happy. Another little incident which I remember was the time when our oxen decided to wade the creek. Mother and a neighbor woman wished to visit another neighbor who lived some miles away, so with all the younger children - children were always taken along when there was anyone going - and with the neighborís fifteen year old son as driver we started. All went well until we reached the creek which had to be forded. There the oxen decided that if they waded into the deep water they could free themselves from flies. Up the stream they went with the two wheels on one side tilted at such an angle that we could scarcely cling to the wagon. The driver was so frightened that he couldnít remember which was gee and which was haw so it was a long time before we could get the oxen turned about and across the stream. How frightened we were and yet how we did laugh when the danger had passed. There were no bridges then so all streams had to be forded.

We had our dolls to play with as children do now, but they were small and we had only a few. As thread was very expensive, when we wanted to make clothes for our dolls we had to ravel threads from the scraps of cloth.

Even though motherís house was small it was always neat and clean. As the fireplace was not in use in the summer, each morning we brought in wild ferns and filled it so that it would look fresh. During the summer we did our washing on the river bank where we heated the water in a big iron kettle.

At this time father was running a flour mill on the Grand River at a small town called Westerville (Iowa). It was here that I spent most of my girlhood days. This was the town where your Uncle Henry and Aunt Ellen lived and where their second child, Mary, was born. You may not remember her as she was married long ago. I can remember going with father and mother to visit at Cedar Rapids, Iowa where many of fatherís relatives were living. The first school which I remember was held in a cabin. there were no backs to the benches and how tired I did get. How strange that one can remember so long ago. My teacherís name was Mr. Lutton. He was a tall man and he always led me home as I was quite small. I never went to school much for in those days people did not think it necessary for the girls to have much education. Reading, writing, and spelling were all the subjects that I ever studied and how much I have missed in life because of that and yet how thankful I am that I can write to all my loved ones when I am so lonely and they are far away.

I shall have to pass over about three years of the most terrible times following 1861 when there was war in our land for it seems that I canít remember what happened in our home life. Almost every home gave loved ones to serve their country. I am sure that you have all read the history of the Civil War and know the hard times we had during that period.

In November, 1864 we moved in a covered wagon from our home in Westerville, Iowa to Holton, Kansas. Brother Henryís family had moved to Holton four or five years earlier. Henry had been in the army for three years as he had enlisted in the first year of the war in Company B, 11th Kansas volunteers. In the fall of 1864 Company B had been ordered to make winter quarters in Paola, Kansas so Aunt Ellen and two of her sisters whose husbands were also in the ranks, planned to go down to spend the winter in Paola in order to be near their husbands. I was fifteen then and was anxious to see brother Henry, so was easily persuaded to go along. Father wanted to see Henry, too, and as he had not yet taken the cover from the wagons, he drove us down. The journey took three days.

We were quite well settled in rented rooms when the soldiers returned from Priceís Raid which had kept them away for six weeks. They were in a sorry mess as their clothes were in tatters, and how glad they were to get into winter quarters. Henry came to live in the house with us where we were very comfortable. The soldier boys who had fought side by side during the three years of the war were almost like brothers. On their first evening in Paola, Billie, as they always called your father in those times, came to visit awhile. He was about twenty-five and a dear friend of Henry. He, too, had enlisted in Company B at the beginning of the war. He was dressed in his uniform with his stripes on it in which he always looked so well. That evening was the beginning of our friendship. Company Bís stay in Paola lasted only six weeks as they were ordered West to fight the Indians. During those six weeks we often went down to camp during roll-call. How nice the comrades looked as each stepped into place.

After Company B moved West, we women folk returned to Holton. In the spring of 1865 father was hired by a big flour mill at Blue Rapids, Kansas. So with mother, Sarah, Tilda, Mary, and brother John, and me he moved to where the mill was located. At that time Blue Rapids had only one house and the mill. It was a lovely place and we had such good times racing our boat up the river to an island where we ate our picnic lunches. We had all the fish we could use - the largest one caught weighed seventy-five pounds. During the 60ís it was the fashion to wear full hoop skirts and how embarrassed we were if anyone ever saw us without our hoops on. We wore out our dresses we took the best part of the full skirts and made them into quilts. We all pieced many quilts in those days and when they were in the frames ready to quilt the neighbors came in to help us.

Billie was mustered out of the army in September, 1865 and came to see me in October. We planned our marriage and fixed the date for January 10, 1866. Billie had intended to reach Blue Rapids a day earlier and make arrangements for a minister but we had a January thaw which made the roads almost impassable. We had invited a number of the neighbors in for the wedding and you can imagine how anxious I felt and how worried I was when the guests all came for the wedding and still your father had not come. He finally reached Blue Rapids late in the evening but there was no minister. As it was raining hard and the minister lived five miles away, we delayed the wedding until the next day when the neighbors returned.

For the rest of the winter we lived with father and mother Bradley east of Holton. Father Bradley was a hot-headed Irishman. Mother Bradley told me that he used to break her dishes when he was angry. At first she was so ashamed of it that she hid the broken pieces but finally she began to stack them about the fireplace and when visitors asked if she had upset her table, she said George had just broken them when he was angry. This broke him of the habit. The drop leaf tables which we used in those days tipped over very easily.

During the spring your papa built a little log cabin on Uncle Jimís place and how happy we were the day we moved into it. Only a box nailed to the wall for the dishes, a tiny cook stove, three chairs and a table, and a bed - such a few things to keep house with yet we were satisfied. Billie had driven to Valley Falls to buy this furniture, having to stay over night there as he could not make the return journey on the same day. In June 17, 1866 mother Bradley died, and on January 16, 1867 our baby daughter, Laura was born. She was so dear that it seemed we needed nothing to complete our happiness. She was loaned to us for only a little while and died on April 7 of the same year. It seemed more than we could bear but we had each other and tried to be happy. On July 7, 1868 John was born, and we were again so happy. He was not quite a year old when we moved from Uncle Jimís place to our own.

Your father drew thirteen dollars per month during the time he was in the army. This he had sent home to his brother Jim who invested it in calves and with the profits from this investment we bought the south eighty acres of land. Here we built our home and all the rest of our family were born and reared there. The north eighty was purchased mush later.

The war had left every one poor and prices on all thing were high. Calico was sixty cent per yard and other things like in like proportion. When the grasshoppers took our crops there was nothing left. We were to proud to accept aid from the government but I remember that mother did have aid and she always saved her bacon rinds to give me for seasoning. Once during those hard times the tax assessor came at about noon and your father asked him to stay for dinner. I could think I could cook but your father ran to the hen house and found some eggs, so we served those with water batter cakes. I was so ashamed of the scanty meal that I didnít sit down at the table with them.

Some years after we were married horses came to be used more than oxen. We still used the lumber wagon but we had the spring seats which were a great luxury. How comfortable they did seem when compared to the board which we had formerly used as a seat. Next we bought a spring wagon with padded seats. Later came the surries with their fringed top and buggies with side curtains. We did not buy these but, later had a phaeton.

The happiest years of my life were spent on the farm. Here all the children except the first two were born and all grew to manhood and womanhood. There were many hardships but we were always happy. The four older children were married here and our family seemed so small with only the three little girls left. Then came my greatest sorrow and heartache when your father died suddenly on April 1, 1899. There was nothing to do but take up his work which he had carried so faithfully and try to be happy for the sake of the little girls.

So now dear children you all know the rest. You smaller children remember the hardships we endured while we stayed on the farm, but we were happy through it all. Later we moved to town and one by one you were married. Then I had fourteen happy years of marriage with Mr. Worley. Now when I am nearly ninety I am lonely for none of you are near me but I hear from you often and am still happy for you have given me worlds of pleasure. This life is not all. I trust in the promise of a grand reunion some time in the future.

Good-bye dear children and grand children. May your years be many and may happiness fill your days.

Lovingly yours,

Elizabeth J. Worley
Holton., Kansas
December 25, 1938.

Mrs. E. J. Worley Laid To Rest In Larkinburg Cemetery

Funeral services for Mrs. E. J. Worley, were held at McAsey's Mortuary Saturday afternoon at 2 o'clock. Burial was in the family plot in Larkinburg cemetery. Her death occurred in a Baltimore cemetery Tuesday at the age of one hundred years. It followed a recent hip fracture just on the eve of her return to Holton to join in a celebration of her birthday.

Rev. I. Winters Funck, pastor of the Christian church, officiated. There were songs by Mrs. Gordon Riederer and Mrs. Edward Haag, with Mrs. H. H. Knouft at the piano. The chapel was filled by sympathizing friends and there was a profusion of flowers attesting the high esteem in which this pioneer woman was held.

All her children were present, including Mr. and Mrs. John W. Bowser of McAllen, Texas, Mrs. Eva Medlock, Ontario, Calif.; Mrs. Curtis Guise of Claremont, Calif., Mr. and Mrs. J. Frank Dague of Baltimore, Md., John Bradley, Frank Bradley, Mr. and Mrs. W. E. Hoenshell of Larkinburg.