John Thomas Bradley
Born: 7 July 1868 in Larkinburg, Kansas
Mother: Elizabeth Jane Hollenbeck Bradley Worley
Father: William Anderson Bradley
Married: 3 Oct. 1894 to Blanche Isabelle Hudgens in Alton, Illinois
Children: Emily Ruth, Edith, Harold, Perrin, and Wallace
Occupation: Builder
Died: 12 Aug. 1958 in Holton, Kansas
Buried: in Larkinburg Cemetery

John and Brother Frank Bradley John Thomas Bradley in 1894
John Thomas Bradley with Shy the dog and Rusty the cat in Whiting Playing horse with nephew Gene Dague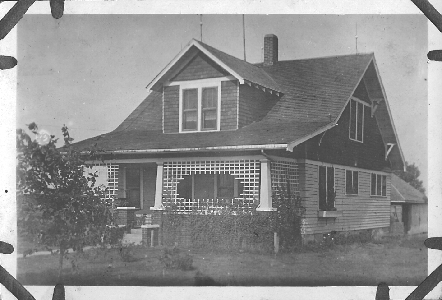 Whiting house that Papa built then and now (2001)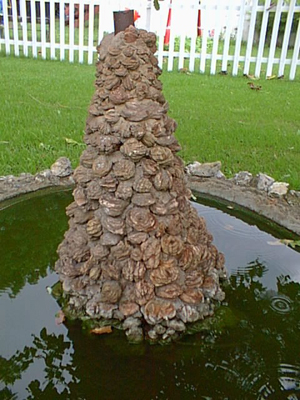 The stand for the birdbath that Papa built out of rose rocks he brought back from Oklahoma is still
at the Whiting house (2001). The current owners must have liked it so well they built a pool around it.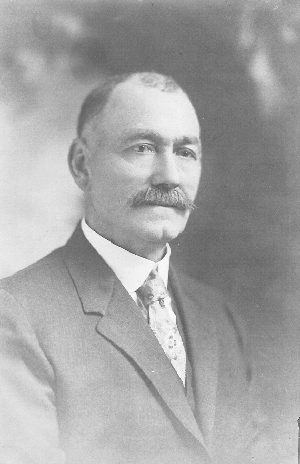 Papa (John Thomas Bradley) with Aunt Jane (Jane Kennedy) in Holton

Papa's Holton house today (2001)

90th Birthday in 1958
A Trail Through Kansas
An Autobiography by John Thomas Bradley

I hardly know how to commence a life story for my children but will begin with a bit of genealogy. Our Grandfather Bradley came of English parentage who came to America settling in Virginia, one branch moving on to eastern Kentucky, where my grandfather was born and grew to manhood and married Eliza Thompson. To this union six children were born, two boys and four girls of which my uncle, James Bradley, was the oldest and my father, William Anderson Bradley, was second. During 1852 Grandfather and family moved on west stopping first in Missouri for a year then on to Kansas and took a claim west of Leavenworth, but not being satisfied, they came on to Jackson County, then an open prairie, and bought government land, or as it is known on deeds, Delaware Indian Trust land. While serving as administrator for Uncle Jim's estate I had the honor to sign the first deed of trust to other persons in 1917 on one parcel of this land. The Bradleys were all Union, and I think that was the motive in so many moves.
On Mother's side the Hollenbecks were of Holland Dutch parentage. They settled in New York along the upper reaches of the Hudson River from where Grandfather Peter Hollenbeck moved west in early manhood stopping in Indiana where he and my Grandmother Missouri Carol were married. I am not giving dates where uncertain. To this union five children were born one boy and four girls of which Mother, Elizabeth Jane Hollenbeck was the second born June 30, 1849. The next move was to Cedar Rapids, Iowa, and later to Blue Rapids, Kansas, where he had a saw and flour mill as he had had in Iowa. His trade was a millwright.
Father and Mother first met at Paola, Kansas, where Father's 11th Kansas Calvary, Co.B, regiment of Kansas calvary in the Civil War were in winter quarters, and Mother came with her sister-in-law, my Uncle Henry Hollenbeck's wife, to visit Uncle Henry who was also in Father's company and chums with Father. (Is this understandable?) Well, we all know when boy meets girl -- this was in the winter of 1864, and they were married January 11, 1866. To this union were born ten children of whom seven lived to manhood and womanhood and three died in infancy. They are in order -- Myself, Frank, Maude, Ada, Eve Nettie, and Grace. Father died April 1, 1899, and Mother September 13, 1949, living to the ripe old age of 100 years. So much for our ancestors -- so far as I know they were all honest and honorable and ready to serve their country and offer their lives if necessary -- plain, plodding Americans that helped make the United States what it is. Their lives were not drab. Each day brought its labor and its worries. A new country is not made a commonwealth by ne'er-do-wells. It takes grit, muscle, and never say die. All honor to them and may their graves ever be green.
Father had saved his thirteen dollars a month stipend during the war ($15 as a corporal) and sent it to Grandfather who bought eighty acres of raw land for Father. After the marriage of Father and Mother, as they had no home, Father and Uncle Jim built a one room log house on his (Uncle Jim's) land for a stop-gap. This place was five miles east of Holton. The cabin has long since gone, but the depression where the cave existed is still in evidence, also herbs that Mother set out. In this cabin came a sister (Laura) who stayed only six months dying of whooping cough, and later I came on the scene - July 7, 1868. After three years in the cabin Father had been able to build a two room house on the farm he owned and got ten acres of ground in production. He hauled most of the lumber for the house from Leavenworth, a distance of sixty miles, by ox team and also their furniture. At the present time I have the only piece of the original furniture -- a walnut drop leaf table.
Our home was five and three-fourths miles east and one mile north of Holton. To the west one-fourth mile lived Mr. and Mrs. Morrow and their two children, Jake and Samantha. Farther west was Uncle (by usage) Rob McDowel and Aunt Martha and their house full of boys - nine in all. To the east one mile was Andrew Worleys and family. Across the creek which ran across our land was Mr. and Mrs. Kathrens, our good neighbors for sixty years, and Frank, their oldest son, the best friend I ever had, always at my side in time of trouble and an ever present help. When he passed on two years ago I was not ashamed of the tears I shed as I saw his casket carried from the church. Farther to the east of Mr. Kathrens lived Uncle Dave and Aunt Tilly McVey (by proxy) and their big boys, Bill, Mark, Zary, and George. To the north of us for miles was raw prairie as nature had formed it. All the people had settled along the streams, for food for fuel and fencing for sheds and stables were a vital necessity. Uncle Green and Aunt Puss and their three children, Marybelle, Will and Ed (Mary and I were same age) lived one-fourth mile north of Carbon schoolhouse. Our lives ran along the same lines, and we were constant playfellows in our early years. The lower jawbone of a defunct horse with a string attached was to us a wonderful sled. Microbes were not then known. Mary and her husband, Sam Booth, live now in Los Angeles, and I had the pleasure of calling on them last fall and recalling old times. Will lives in Topeka and Ed passed on last fall. Other neighbors were Mr. Rose, one mile north of Carbon school and farther northeast on Straight Creek were the Thompsons, four families, cousins of ours on Grandmother Bradley's side. The men while the best of neighbors were not molly coddles. Early in the history of Jackson County the Anti-horse Thief Association had been formed for protection. Far to the south of us on Cedar Creek lived a family of evil report, and one of the boys was caught on a stolen horse in the village of Netawaka, and after a quick trial was hanged. It seems hard now, but then horse stealing was equal to murder, and law was in its infancy and thievery abounded. Father rode horseback to Holton to get his boots resoled and while in Flecher's shoe shop where the State Bank Building now stands his horse was stolen from the hitch rack in front. It was never recovered.
Among the early businesses in Holton was Gordon's store, G. P. King grocery, Sarbach Dry Goods, Dr. Adamson, Dr. Waters, The Holton Hotel, and a number of real estate men. The Potawatomi reserve on the south of Holton and the Kickapoo on the northeast brought a number of government agents to Holton as a central place. The Kickapoo reservation came nearly to Straight Creek at that time and covered the present site of Muscotah reaching just south of Horton which did not exist then. The south line was a short distance north of Straight Creek. I think most of you children remember the farms with a part cut off as the line ran in a northwest to southeast direction. The Indians, while numerous, were a peaceful lot except when full of white man liquor which was unlawful to sell to them and was rigidly enforced. Their income was from the land the government had sold for them and was parceled out at three month intervals.
The above is history before my time and until I was six or eight years old. My earliest recollection is of our two room house with peach trees to the west, small but growing, and bees in hives underneath. In the fall of 1873 a prairie fire roared in from the north destroying the hay sheds, our shelter for the stock, the rail pen crib of corn, in fact everything but the house. What few cattle we had were south of the creek and safe, and the two horses were hitched to the wagon, and someone took them across the creek in a hurry. It is my first vivid recollection. I saw the rabbits race across the road a living torch and dive into corn shocks. I saw our chickens fly before it engulfed them and left them a charred mass. They told me the hogs made it to plowed ground and tho singed, escaped. While only a bit more than five years old, it is all as vivid to me as though it had happened yesterday -- the neighbors (bless them) tearing at the corn pen to spill the corn and they saved some of it; the rush with someone appearing through the smoke will remain with me all my life; and how the neighbors came in later to help rebuild the sheds, the pens, the rail fences and brought hay for the cattle, and the corn, though scorched, was fed. All those north of the creek were alike denuded. Elk Creek was a savior to those to the south, and they gladly shared their good fortune with us.
Our next awful experience was the grasshoppers (locusts in the Bible. In September of 1874 they came by the billion from the northwest. The sky low down was dark with them -- front ones alighting, the rear rolling over and ahead like a wall of water. The chickens ran for shelter as from a hailstorm. Within twenty?four hours the corn fields were stripped, the ears on the ground and covered with a hungry horde. Every living thing in the gardens was gone. They followed the beets, onions, and turnips to the roots leaving the impression of the vegetable in the ground. They penetrated the houses, eating clothing in the beds and on the chairs. They drowned in the creek until stock would not drink the water. The only thing left untouched was the prairie grass and sorghum cane. They stayed until killed by freezing. They laid their eggs in the ground for a future crop. That visitation brought out the stamina of the people. The dry grass and browsing trees would carry stock through until spring, but human food was the $64 question. Money, there was none; credit, the stores though generous, could not carry the burden; banks, there were none; crops to sell, none. Grandmother Hollenbeck and her three young children were living near at the time, Grandfather having died several years before. Our Uncle, Grandmother's brother, Wesley Carol living at Leon, Iowa, offered to care for her, so Father took her and the children to Iowa and returning brought a load of corn as the hoppers had not penetrated Iowa. That fixed us for hominy and corn broad, and the cane provided sorghum molasses. The hogs were killed but so poor that they were "poor pickins". Aid was sent from the East, but few accepted it. How different now when every hand is out for government help and every word is "gimme".
The Kansas Central Railroad had been working its way west from Leavenworth slowly during 1872 and 1873 and reached Holton in 1874. This gave an incentive to immigration, and many came in and bought homes. Also the Missouri Pacific built west from Atchison, and Muscotah came into being, also Whiting and other towns along the line. A market for the farmers' produce was a great incentive for increased production. Before, Father had hauled dressed pork to Leavenworth and Atchison and sold it for three cents per pound and beef, likewise.
To go back a bit, 1874 found me a big boy of six years. A stone school house had been built a mile and one half east of our home, and thither I marched with Jake and Samanthy Morrow, a bit older, as company. Proud to be going to school but oh, all those big boys and those big girls, kissing me -- how I hated them and how I ran all the way home to pour my troubles into Mother's ears, and how she wrapped her arms around me and cheered me on with loving words so I was ready in the morning for further adventures -- so began my education. Our school house by recent measurement of the old foundation was 30 X 40 feet. Into it was crowded, during the winter months, sixty scholars ranging from six to twenty years of age and one teacher for all. It seemed all the newcomers had large families. There were the Smiths, the Thompsons, the Worleys, the Roses, the Sharps, the Moores, the Kathrens, Trumans and Green, Morrows and Abels. For a space five miles square, though thinly peopled, a lot of children spring up. For the next few years the crops were bountiful, and though prices were low so were commodities, and people were contented. Father decided to buy the eighty directly north of us and did so at a price of ten dollars per acre or eight hundred dollars. Mother began to urge for another room on the house. This gave us another bedroom and also a covered porch, and the earth was removed from below the original building, and a roomy basement constructed. How proud we were with the expansion and Father's expanded farming.
At eight years old I sat on the planter and dropped the corn and felt quite grown-up. At this time my talents began to develop along lines startling to Father and Mother. My idle time was quite taken up with hunting and collecting all sorts of rocks. The ground north of our house as I now know was a glacial moraine and filled with pebbles of every description. Another occupation was catching grasshoppers and feeding them to certain colonies of ants and watch them store away the food. Many an hour I spent on my stomach watching the various antics of the ant colonies and wondering if when they touched mandibles, they were talking to each other. I expect Father and Mother wondered if I was "teched" in the head and if it was worthwhile for me to continue in school. But I always got good grades so I suppose they thought maybe I would outgrow such notions, but they stayed with me and in my later years I was an avid student in Geology and everything connected with it and I have continued the same throughout my life. How nature holds a balance among the animal world - how when one form of life succumbs another form comes to replace it. From the highest to the lowest each has its place and each has its nemesis. Parents should study their children's talents and help them select their vocation. Farming wasn't mine and was always anathemy to me but Father could see only a farm. My brother Frank was a natural born farmer and a success.
My life for the next few years was school in winter and summer dodging the hoeing when possible and chasing the frisky chipmunk, gathering the beautiful wild flowers until conscience drove me back to my chore. I remember how Mother would put me churning in the basement and I would completely forget my task while I caught a fly and threw it in a spider web and watched the spider spin a web around it or how a wasp would sting a spider into a comatose state and store it in its mud cell for provender for its young larvae. Only the broom handle thumping on the floor above would recall me to my task. I must have been a trial and a problem.
Games never appealed to me though fishing and hunting were a passion. At that time there were thousands of prairie chickens and as Father cut most of his corn they would come in off the prairie to feed on the outer ears of corn in the cornfield or shocks. Father made traps with swinging doors and what we called Figure four traps and it was a passion with me to go with him to take the chickens out and reset the traps. This was in the fall and winter and I have seen and helped him take fifteen and twenty chickens in one day. There was a ready market for them at $3.50 per dozen killed and drawn so it was quite a help to keep down expenses. Father presented me with a number of new steel traps to catch small game for their pelts and was I happy. This was right up my lane. How I hopped out of bed at 4 A.M. to run my trap line and how I was cheered when I caught a muskrat, possum, or an occasional mink. The preparation and curing of the pelts and then the selling of same was pure pleasure. Learning to track the coon to his den in a tree and then getting him out thirty or forty feet above the ground never bothered me at all.
In the meantime my brother Frank was growing and how we enjoyed each other and how I enjoyed his help at the chores. We were direct opposites in our likes and dislikes so we didn't oppose each other in our desires. At this time the public land was nearly all in private hands. Mr. Walton and Mr. George Drake came in early 70's. Charles Smithers to the north of us in 1874, Mr. Pullen south of us in 176 and the free range was nearly all gone.
So life went on until I was 14 when a family came from Alton, Illinois, and brought Mr. Rose out and the first day of school the two children, Ray and Blanche Hudgens, came in and right then it struck me there were girls in the world. Her face clear of tan and her rosy cheeks and her merry ways struck all of us boys, especially my friend, John Worley, who instantly became my friendly rival. Blanche was hardly eleven years old and we were only fourteen. To sharpen her pencil, to bring an apple, anything until we were the laughing stock of the school. Luckily for me Mr. Worley sold his home and moved to Osborn County and of course John had to go, too, but I didn't have a clear field as others challenged my claim but I was in the lead. How we laugh at puppy love but it is or should be a serious matter. The second year we got to passing notes to each other. I hid mine (received) from her in a knot hole in the barn post. She kept hers in her apron pocket and one Monday she forgot to remove them when she changed aprons and Mother Hudgens found them so that means of expression came to an abrupt end.
Going back to my work and home - our family was increasing and Mother and Father decided to build another wing on the north of the original house. There was now myself, Frank and Maude in school and Ada and baby Eva at home. And Grandmother Hollenbeck lived with us since her two girls and boy had married. Yes, we needed that wing. We, Frank and I, were large enough to be quite a help in farming operations and Father kept expanding the cultivated land. Our herd of cattle had grown and the barn we had built in the meantime had eight or nine horses and mules in it. Not all of this came as a matter of course but by hard work and good management and a determination on Father and Mother's part to do nothing until they had the cash to pay for it. No more hoppers came but other things happened - drought and chinch bugs (a small bug but mighty in numbers) infested the wheat and from that to the corn made poor crop years, but diversified farming (some of this, some of that) generally pulled us through. Our early life was plain but we never went hungry. Father was a provider par excellence.
Going back to my school studies -- At 15 years of age I finished all common school studies and received my diploma had not given up my desire for geology and higher mathematics. Very few from the country went on to college. The ease and facilities for higher education on were far different then to what they are now, especially in the west. After an earnest talk with our teacher (John Preston) he urged us (Jake Morrow and myself) to attend another year or so and he would give us higher mathematics, Geology and Astronomy. In return we were to take over some of the lower classes so as to give him time for us. A new and larger house had been built in the meantime on the site of the old stone building and for two terms Jake and I devoted our time to the study of the earth and heavens. Both of us enjoyed and profited from it. Those days - can we ever forget them? Just coming into Man and Womanhood. The world before us. Single couples were frowned upon but how we all piled sleds if snow enough or a hay wagon filled with straw and chaperoned by teacher drove for miles to a rival school for a spelling bee or speeches. Paved roads and fast care were un dreamed of but youth and beauty were there and all was well with the world. Mr. Hudgens had sold the farm in the Carbon neighborhood and moved to the Philo community about 5 miles southwest. I was making visits by horseback ostensibly to see the brother but no one was fooled. While we may have glanced around, Blanche and I were still planning for our future together.
My school days were now over and about this time (1886) the Rock Island railroad was calling for help to built a branch from St. Joseph to Topeka via Holton. I took a job and worked until it was finished. Wages were $1.50 per day, board 50 cents. The following year the Northwestern was built from Kansas City through Holton to Virginia, Nebraska and I spent most of the year in its wake. As foreman I received the magnificent sum of $2.25 per day, board 75 cents. But as Grace says about Washington throwing a dollar across the Potomac River "A dollar went much farther then". Frank and Father could now handle the farm and gave me a chance to earn some money of my own. The spring of 1888 1 helped put in the crop at home, then worked for Mr. Thos. Coffin putting up hay on the Potawatomie reservation. August 25 (and I remember the date) I borrowed a cart and horse of Mr. Coffin to drive home over Sunday. Stopping in Holton I learned from an old schoolmate that there was to be an ice cream supper at Carbon that night and I drove by Mr, Hudgens to ask Blanche for her company. She said yes, but I must ask Mother if it would be all right which I did and her answer is with me yet. "Of course you can, John". Out first trip alone and Blanche was home before midnight. On home and a new surprise - a new arrival, Grace, our last sister.- Our brilliant one born to lead her class through the grades, high school, and Campbell College - a Humpty Dumpty in size but a mind lightning quick. How we have loved her through all these years. That fall Father and Mother threw out the last wing to the house, one on the East with a pantry on the south. The room was to be a kitchen and what romps I had with the younger girls there – on my hands knees and two or three on my back as we raced he lter skelter around the room and under the table for shelter. No, there weren't many quiet minutes with all of us on the rump as Nettie called our gallops. Those days are gone but their memory has driven many a blue devil away for me.
The year 1889 was very dry and crops poor. Frank, Henry Montgomery and I drove to Missouri and worked on construction of a new railroad all fall. In the meantime Mr. Hudgens had moved again to Corning, Kansas, and Blanche and I had a very serious quarrel. What was it? I don't know but we decided quit. She went to Park College in Missouri and I to get as far away as possible went to Washington State. For the next year I worked there. At first, I worked as bookkeeper on a big ranch and later in the fields but home ties were strong and in the early winter I came home and for the next two years farmed and "batched" not far from the home place. In the meantime Blanche had finished school and was brave enough to write me as we had had no communication with each other for three years and lots can happen in that time. We wrote back and forth during the winter and things were happening at home now. Frank and Maude had grown up and though I could hardly believe it had chosen their life mates. As it happened they also were brother and sister and a double wedding was in the offing. Blanche and I were chosen as bridesmaid and groomsman. I went home with Blanche for a few days at Corning and we each agreed there was no one else in the world but each other. Mr. Hudgens were moving back to their old home in Alton, Illinois and we agreed to wait until fall for our wedding. Blanche went to Alton and I to the farming but now we used Uncle Sam. Each week our letters flowed between us. I have them yet, the ribbons faded, but they will be here when I am gone for who cares to read. I am not ashamed of a single word. They express our love, our hopes and aspirations. In the fall I journeyed east and we were married October 3, 1894, in Alton, Illinois and immediately started for Kansas stopping briefly with friends in Slater Missouri.
To give you children a short sketch of where we lived our married life I will say the first three years were spent on the Stork farm three miles south of Holton which we rented, and there one year later came our first heir to bless our home, Emily Ruth, on October 12, 1895. How proud we were of you and how tenderly we handled you as though you would break. In a little more than two years later on November 20, 1897, came Edith with the golden hair and we were doubly blessed. In the spring of 1898 we moved to the Tippen farm one mile north and one mile east of Birmingham. We had leased it for three years and you were born there, John Harold, on May 27, 1900, our first son and how we rejoiced. In the fall of 1901 we moved to the old home place where we lived for the next seven years and where on September 19, 1902, came a son not to stay with us. Next was Ralph Perrin born December 21, 1903, and as Blanche said her arms so hungry for him and she did not grieve much for the one lost.
Just here I want to turn back a bit. Father died suddenly April 1st, 1899, and Mother was left with the three girls (Ada having married in 1897). I had the pleasure of getting Mother pension in 1899, and as the farm brought such vivid memories, she bought a home in Holton and moved there and wife and I came to the home place in 1901, where we lived for seven years. In the latter part of this time we had bought a farm and how we planned our own home. Also we were looking for another arrival and had two blessings to anticipate. On October 9, 1906, came Wallace Wendal and we rejoiced at his size and strength. All was well for the first few days, but poison developed and our wife had to leave us, and my world was suddenly black and lifeless. We had had quarrels and spats only to rush suddenly into each other arms. We had had plans and hopes and now they were as nothing. How could I carry on, and then I looked at you children and saw my duty. It was you children, all of you, that gave me courage in the following years, and It was t a burden, It was a lift you gave me to carry on and as you grew to school age and older I grew with you. Mother cared for you, Wallace, the first three years, and Sister Maude who had also lost her companion and lived near with her three children helped us over the bumps as we consoled each other. We continued on the home place until the spring of 1908 when we moved to our own place which we had bought in 1906 of Mr. Morrow. This was a prairie pasture of 160 acres. Brother Frank and I bought together for $6000 he taking the west half for $2800 and I the east half for $3200 as the house and improvements were on it. I also bought twenty acres of the home farm for $600 making in all one hundred acres in our home place.
We went through the Flu epidemic of 1918 when all of you wore in bed and no doctor could get to us for the drifted snow all our neighbors were in the same fix; when you, Ruth, had pneumonia; when you, Perrin, also had the pneumonia and were so worried about you, but through it her memory carried us on and all your presence braced me up. It was at this time, Ruth, that you left us to marry your schoolmate, Bert A. Smith, in September, 1914. You have been doubly blessed with your children and your husband beside all these years. I know it was an awful chock to have only son go to the bottom of the Pacific with his plane in 1944. In 1920 I sold the farm and moved to Whiting to engage in cement work, mostly bridges and this business I followed for the next fifteen years, and as you children married and made your own homes soon Edith and I were alone as Edith chose a single life. After the thirty's crash and we lost our home at Whiting, we bought our home in Holton. Edith and I are the only ones left in the home nest, and she most of her time in Denver as a nurse. Wallace, you chose the Navy, and I am proud of the record you have made the wife who stands beside you. Perrin, your life in Arizona has been a fine success and you have a son anyone be proud of. And, Frances, I am quite sure you are an equal mate with Perrin. Harold, you made mechanics your life work and in it you are happiest. May it always be so. I was proud that you, though above age, chose to play your part in the war. You have a good wife - cherish her. Edith, you are my help and my guide. We are to brace each other. So many times I have wanted to say a word of love or encouragement you in your blue depths but knew not how but my love for you never failed.
Before closing I would like to reminisce a little about my experience with the Cherokee Strip. Soon it will be forgotten and lost to history. The Cherokee Strip as it was own, was a strip of land just south of the Kansas border, fifty miles wide and two hundred miles long, granted to the Cherokee Indians by the government as an outlet for them to the west to hunt buffalo and other wild game without crossing other tribal lands. The Cherokee reserve was in eastern Indian territory. After the extermination of all game in the west they had no further use for it as they were not allowed settle on it as homesteads so they returned it to the government for a consideration. It was declared by decree was to be opened for settlement September 16, 1893, at noon to those who first staked a claim of 160 acres -- to all and any United States citizen of good repute. My brother Frank, Strawder and Henry Hickman, and I rigged a new covered wagon with supplies and off we went. The world ours and a claim in the Strip was our hope. Our engine was a team of mules and a team of horses to be changed as needed. We allowed sixteen days for the trip as we had to register at the line to qualify, and we didn't allow any too much time as the roads from Topeka south were packed with othes with the same intentions. It was dry and the dust was terrible. At Winfield we were joined by Father, Will Moore and Henry Montgomery then on to Arkansas City and Chiloc to register at the line. We camped at Arkansas City and went into the line at 3 A. M. and had to stand until 10 P.M. before we got to the registration booth. The lines were patrolled by U. S. troops, and no crookedness was allowed though we learned later a few dollars would blind a patrol after dark. Then with our qualifying papers on the early morning of the 16th we drove to the line for the race. The soldiers allotted 100 feet inside the line for position. In front were those on horseback, next carts made from the hind wheels of wagons with a tongue where the coupling pole was and a sturdy deep box for the occupants, and last the heavy wagons and light buggies. Where we were we could see east and west for perhaps ten miles, and it was solid with people and in front were the soldiers patrolling. As twelve o'clock neared all was nervousness. Someone east of us fired a revolver and yelled go, and a bunch of horsemen broke out and through the patrols who were trying to stop them. They did stop all but one man, and the officer, as we learned after ordered a soldier to shoot his horse. We saw the soldier jump from his horse and fire but instead of the horse he killed the man, and at the report of his gun the entire line from Pontiac to Puncheon broke loose and the race was on. The ground was covered with tall two foot grass with a gentle slope down for perhaps forty rods then a gentle rise. The noise of ten thousand horses and heavy wagons was deafening -- all running watching for an opening ahead. Just beside us to our left was a heavy cart with six occupants, and as we neared the bottom one wheel of their cart dropped in a wash-out hole, and the entire outfit upset. Did we stop? Not much nor anyone else. 160 acres of land was ahead. We kept watching for an open space to stake a claim but none appeared. In fact there were twenty men for every claim and it seemed there were flags on every forty acres. Will Moore and Henry Montgomery thought they had an original idea and procured flags and a hammer and went to the line to drive their stakes when the gun was fired. They came back to the wagon with the report that a man was standing every ten feet with the same idea -- not so original. The government had plowed a furrow around each quarter and as soon as a man drove a flag stake he set grass afire to find his limits. The courts were filled contests for years after. The land was of the best and now is covered with oil wells in many places and fine towns and altogether prosperous, the best in Oklahoma. But we came home. Have you seen Cimarron? It is a very, very slight view of the largest race ever was or will be in the U. S.
And now this is too long and I must close. I am four score and two years old. I have seen Kansas come from a wild prairie and wild men to be a settled, law abiding state. I have seen the rutted roads made by the ox teams give way to the paved highway filled with glistening autos, but through it all men and women are the same. The law abiding and law defying are with us today, tomorrow and will always be. It takes strong men to make a nation and as strong men to keep that nation. To all of you, keep that high purpose that leads to a better and nobler life. Wealth, if honestly won, is a blessing but honesty and uprightness are more to be desired.