Occupy Earth
1 December 2011 --- My Internet is back, so I can upload photos from Occupy Earth. I have heard Quakers are involved in the organization of the Occupy movement and I got another hint here. The People's Assembly yesterday began with an explanation of hand signals and the first was the Quaker alternative to clapping as a signal of approval. The Assembly worked very well. After some introductory comments and issues raised, the large group broke up into small working groups. Before we assembled again for the working group reports, there was a press conference on the Tar Sands issue in North America.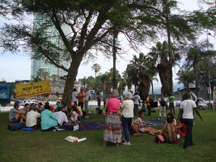 Occupy Earth in Durban is in the "People's Corner", the designated spot for demonstrations. It is a triangular green space at a major intersection across the street from the ICC compound where the official meetings are taking place. The building in the background is the Hilton Hotel inside the large, barricaded compound that includes the official meetings, side events, and exhibits. The banner below is hanging in baobab tree, the symbol of COP-17, and says, "Keep the oil in the soil and the coal in the hole." It is the "supply-side" solution.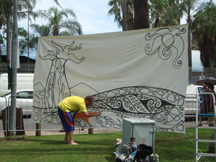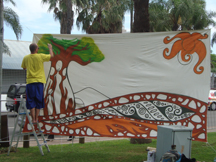 All the while the People's Assembly of Occupy Earth was going on, a mural was being created. He was using paint in spray cans.