Cape Peninsula Drive
29 December 2011 --- Kelly and Brad, African traditional healers who live just across the street in Oude Molen, invited me to go along with them and their daughter Isabella on an excursion down the peninsula toward Cape Point to see the penguins. These African (Jackass) Penguins (Spheniscus demersus) have not always been here. A colony moved in recent years, but they are decreasing in numbers. They are found at Boulder Beach, which is well named. To get to the beach where the penguins are mixed in with the people enjoying the sand and sea, one must climb over and crawl between huge boulders. I barely made it, but it was really worth the effort. That's six-year-old Isabella in the red shorts.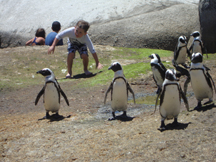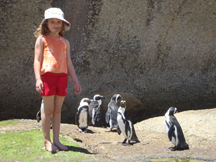 We went on around the Cape Point, but didn't stop at the southernmost point because there was a very long "cue" of cars waiting to get into that reserve. This is the long school holidays, Christmas week and summer, so there are many people out, foreign tourists and South Africans on holiday. We drove on around the peninsula, beginning on the Indian Ocean side and ending with the Atlantic. Here are some stunning views. The first is of False Bay on the Indian Ocean side. It is warmer, so there are many people in the water. It is a very wide, shallow beach. That's Kelley at the overlook.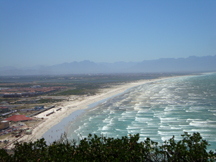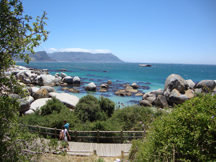 The most dramatic was driving around Chapman's Peak where the road has been cut into the steep mountainside next to the ocean. We saw baboons along the way on the steep mountain side.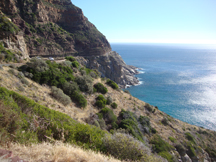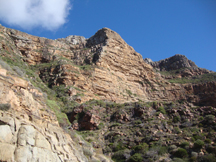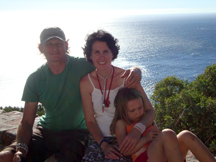 At the end of that dramatic drive, we got into another traffic jam driving to the top of Signal Mountain for another great view of Cape Town.