Christmas at Lighthouse Farm Lodge
25 December 2011 --- Merry Christmas, or, as they say here, Happy Christmas. Last night was a Christmas Eve dinner at Lighthouse Farm Lodge, which is in Oude Molen Eco-Village in the Cape Town suburb of Pinelands. I feel so at home here --- I could be in Barranco, which is where I usually am for Christmas.
Oude Molen is a beautiful open area with a straight view across the Black River of Devil's Peak and Table Mountain. After the Dutch came here in the 1600s, this area was one of the first large farms owned by the Valkenberg family. One of their sons had a mental illness, so they built an insane asylum here. In the Apartheid days there were two mental hospitals, the white crazies were on the other side of the river and the blacks on this side.
After Apartheid, they closed the black hospital and squatters moved into the buildings, pretty much trashing the place. Later a man came with a mission to start a gardening project for the people in the Valkenberg Hospital, which began what is now Oude Molen Eco-Village. The government made the buildings available to tennants for low rent with the agreement that they would repair them.
There are a variety of enterprises here --- stables with lots of horses and an open field, a swimming pool with booths for artesans and small restaurants around it, two backpacker lodges, a restaurant, and an Ecotheatre.
The owners of Lighthouse Farm Lodge, Helen and John, live in what was the doctor's house and have a large vegetable garden. Last night she prepared a large Christmas Eve dinner with many vegetable dishes, stuffed chickens, gammen (a pork cut - shoulder, I think), a vegetarian fake meat dish, and trifle for dessert. They included all the guests and invited some friends. John is a meditator, very compatible with Quakers. In fact, they have Quaker friends, but they couldn't come last night. His meditating colleague, Chris (left, below), entertained me with a conversation about God being within everyone and everything --- "God is infinity."
Another couple, Kelley (right) and Brad (center) live in Oude Molen and are involved with African spirituality. We shared our very similar stories of miraculous healing. They want to come to Belize.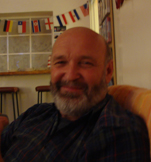 I didn't understand the name "Lighthouse" because this is a farm and not on the sea. But Chris explained to me that it is a "house of light", the Inner Light of God in everyone. There are lighthouses around and an African Christmas tree.
There are a couple of labour teams staying here for several months. They are working on finishing an extension to an existing mall. Some came from Mozambique, but others are from northwest South Africa. The project won't be finished until February, so they are not going home for Christmas. Here are photos of Helen taking a photo of the dinner spread, and the crowd gathered for dancing.